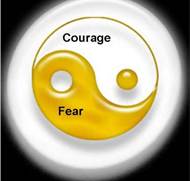 Courage. What does this word mean to you? Does it mean stepping out of your comfort zone and trying something new? Is it what you use when facing an unexpected diagnosis, change in employment, or loss of your home? Different situations require different degrees and forms of courage. The courage that it takes to face physical challenges can be dissimilar to the courage that it takes to confront social or emotional situations. Additionally, situations that may require me to be courageous may be something that you find easy to do. We are all unique, and yet we have a common resource we draw on when facing life's challenges; and that is courage. This shared ability can also be referred to as pure guts. It is the unique way that we each choose to face fear.
I have seen powerful examples of courage in the past few weeks.
A dear friend of mine recently lost her entire home in the Colorado forest fires. Despite experiencing a devastating loss of property, she has chosen to be grateful for her family's safety and for the overwhelming support of her community. Courage can be choosing to fill your heart with gratitude instead of bitterness in the midst of great loss.
After an eight year remission, a diagnosis of the return of cancer has sent a family close to me into a fearful tailspin. Worrisome thoughts of what if tempt them towards despair, yet I see them choosing to be mad at cancer instead. That anger can fuel them to fight this disease together. Courage can be choosing to fight the good fight instead of giving up hope.
The recent death of a young mother who passed away while giving birth stunned her family and cast ripples of grief throughout my faith community. Such a devastating loss seemed incomprehensible, and many wondered how her husband, young son, and newborn daughter, as well has the rest of her extended family and friends, would manage without her. I witnessed powerful courage at her funeral as the family leaned on their faith in this desperate time. Courage can be choosing to use a deep source of strength found in spiritual beliefs; allowing us to hang onto the lifeline those beliefs can provide when overwhelming grief threatens to sweep us away.
These examples of great acts of courage inspire and reassure me. None of us knows what life will bring our way, and it's tempting to worry what will be around the next bend. I find hope in the realization that we have a choice in how we respond to whatever comes our way. Choosing to be courageous may not necessarily be a conscious choice. It may, instead, be a gut response that occurs in the moment. Whether we are aware of it or not, courage gets us through the circumstances that challenge us.
Courage is not just for the tragic or dramatic moments in our lives.
It is a choice that we make every day when we step out of our comfort zone and try something new. Courage is necessary in order to make subtle changes in our thinking and in our behaviors. Change, by its very nature, is uncomfortable. In order to create new situations or behaviors we have to go through the discomfort, and sometimes fear, of change before we can arrive in a new place. Knowing and expecting that the process is going to be uncomfortable helps us to stick with it, and not retreat to familiar habits that we want to let go of. In addition to a time of discomfort, change can also bring a sense of loss. Even when we desire what is new, we can still grieve the passing away of what has been. Changing relationships challenge us to be courageous.
Another subtle need for courage arises when we need to ask for help. We make ourselves vulnerable when we admit we need assistance from others. I experienced this recently as I asked several respected authors and educators to review my manuscript in order to provide testimonials for the book cover. One of them shared with me his hope that my story would inspire him to write about his transformative life moments. I'm glad I found the courage to share the manuscript, which in turn allowed it to become a gift to others.
Where are you choosing courage in your life? Are you using it to step out of your comfort zone and trying something new or are you relying on it to face dramatically changing circumstances?
It has been said that courage is fear that has said its prayers and decided to go forward anyway.
May you be inspired by the courage you witness and choose today.
Carol deLaski is a personal and professional development coach, speaker and soon to be published author. To contact her: email [email protected]
She is also a founder of the Wholistic Woman Retreats community which offers enriching, supportive and fun opportunities for women on-the-grow. You are warmly invited to step out of your comfort zone with this supportive community at their annual zip line retreat on 7/23. Click here to learn more about Zip, Swing & Soar.