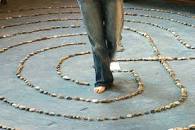 Do you ever have trouble quieting your mind? Is life so full of activities and obligations that you find it hard to settle down and be calm? At times, I can feel overly busy and in need of some peace and quiet. Can you relate?
When I feel stressed, I know that I need to unplug and focus my attention within. This can take place as a quick meditative moment when I pause and appreciate the beauty of nature, or listen to a song that touches my heart, or just simply close my eyes and breathe mindfully. At other times I need more than just a moment and I turn to different ways to settle my body, heart, mind and spirit.
One way that I focus my attention within is to hold a special heart-shaped stone that has a spiral etched onto its surface. It fits perfectly into the palm of my hand and the weight of its solidness is somehow comforting as I hold it. When I gaze at the spiral in this stone I am reminded of a labyrinth.
The path of a labyrinth is often in the shape of a spiral. When I walk a labyrinth, I feel as if I am traveling inward to my core. Whether I walk meditatively, joyously, or thoughtfully, when I reach the center, I linger to savor the experience before mindfully walking outward…back into the world.
Labyrinth walking is an ancient practice used by many different faiths for spiritual centering, prayer, or contemplation. As I walk the labyrinth inward, I connect with my intuition, to that inner wisdom that is uniquely my own. Then as I walk the spiral outward I prepare to take that insight into my life. For me, a labyrinth symbolizes the balancing act between being and doing. As I center myself I am focused and present. Then, when I return to my daily activities I am stronger and better able to handle the challenges before me.
How do you walk a labyrinth?
Before I begin my walk, I consider how I want to approach the experience. I may want to connect with feelings of joy or gratitude as I move forward. Or perhaps I have a problem that is weighing heavy on my mind or heart. If so, I may set the intention to receive guidance about that problem as I enter the labyrinth. I state the problem, take a few mindful breaths, and then walk the spiraled path inward towards its center. Clearing my mind of all thoughts and releasing the need to solve the problem, I practice being receptive and open to answers that arise through my heart and spirit. I allow imagery, creativity, and intuition, to lead me and I let go of thinking.
Labyrinths are sometimes confused with mazes. A maze has twists and turns, and dead ends. It is a puzzle to be solved and requires thinking and logic. By contrast, a labyrinth offers only one way in, and one way out, so you don't have to think about anything as you walk. This makes it easier to let go of thoughts and to settle into your heart and spirit.
It's important to remember that there is no right or wrong way to experience a labyrinth. The only choices to make are whether or not to enter it and how you would like to approach it. What attitude will accompany you on the walk? Will it be meditative, joyous, grateful, seeking, or perhaps prayerful? You may want to listen to music, recite a centering prayer or mantra, or focus on your breath as it goes in and out. The choice is yours. As you pay attention to your experience of this inward journey to your heart, be aware and open to the guidance that this centering exercise offers you. Be sure to let it settle into your being when you pause at the center of the labyrinth's spiral and then bring this feeling with you as you walk the path outwards, back into life.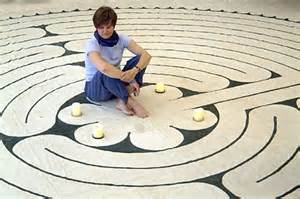 I believe that calmness and balance are within our reach when we practice being present with ourselves, and being receptive to the guidance that the Universe and God has to offer us. By letting go of busyness, and opening our hearts to receive inner wisdom, we can return to the activities of daily life clearer about our purpose and who we are.
If labyrinth walking interests you, you are invited to experience it with the Wholistic Woman community on Oct 4thwhen we will take a day trip to Bon Secours Retreat Center. You will have the opportunity to walk the labyrinth, in the way that is best for you. Afterwards, there will be time to explore the grounds and enjoy the Peace Garden and a picnic lunch with this supportive community of women. Click here for details or write to [email protected]
Carol deLaski, PCC, is a speaker and coach who provides Strengths-Based Development Programs for individuals and businesses. She is also the author of Lost and Found: Discovering Strength in Love and Faith. You may contact her at: [email protected]