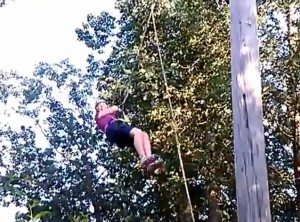 Harnessed by strong cables, I found myself in an unusual position high in the trees… facing upwards and glimpsing patches of blue sky. A team of eight women had pulled me into this position and awaited my decision to release the cord which would drop me into a free-fall swing through the tree tops. Butterflies swirled in my stomach and my breathing grew rapid as I allowed myself to fully experience this strange suspension in the air. Time felt suspended, too, as I savored this momentary mixture of calm and electrifying anticipation.
Encouragement from the women below wafted up to my ears and I knew I had the full support of my team. "You can do it!" and "Go for it!" let me know that they believed in me. They saw the courage and trust that it took to climb into this precarious position and knew the important role that they played in providing support as I took this well-calculated risk. I had given encouragement to them when they had been in this position and now it was my turn to receive it.
I held my breath for a moment, then with the thought Here goes, I pulled the cord. My body dropped several feet and the industrial-sized cables caught my weight and safely sent me soaring through the tree tops. A scream of excitement escaped my lips, followed by loud whoops of joy, as I swung back and forth high above the people cheering below. I felt like a school-girl as my legs pumped to keep the swinging movement going as long as possible before my turn ended.
When I came to a stop, I descended the ladder with a mile-wide grin and received hugs and pats-on-the-back as my team congratulated me. I enjoyed the sense of accomplishment that flowed from overcoming something that scared me.
You see, earlier that day I was uncertain if I would actually do the free-fall swing. It was similar to how I had felt about doing the zip line several years ago when it was first offered at a Wholistic Woman Retreat. With team support I had overcome that fear and had enjoyed the thrill of zip line rides several times since then. I had learned to love it. In a similar way, I decided to do the swing after watching other women successfully do it. I was so glad that I stepped out of my comfort zone and experienced it with this fun and supportive group of women.
What does it take for you to be brave and overcome your fears? Do you need the support and encouragement of others? Does it help to see other people going first so that you can observe the challenge before you step into it yourself? Do you want to know that it's okay to express yourself in whatever way you need to… whether that means screaming, cursing, crying, or laughing? Do you need information to know that you are safe? What helps you to be courageous?
The truth is that we face our fears every day. Some of us are dealing with frightening medical diagnoses, wayward children, conditional love, issues with spouses, financial instability, loneliness, changing circumstances, crime, war, and the list goes on and on. How do we find the courage to face these challenges?
I'd like to suggest these three steps:
Identify the fear. This step is hard because it feels vulnerable to admit that we are afraid. However, it's crucial that we name what scares us in order to begin releasing the hold it has over us.
Have a support team. Surround yourself with people who you trust and who are modeling brave behavior. They will inspire you to be more courageous and will applaud your accomplishments both big and small.
Take small steps. Bravery grows every time you do something that scares you. For some of us that may be speaking in public, publishing a book, or trying a new physical challenge….our fears vary and are as unique as our fingerprints. As Eleanor Roosevelt said, "Do one thing every day that scares you." Not to frighten yourself but to grow more confident and skillful at overcoming whatever is holding you back. Develop courage and resilience by facing and overcoming your fears one small step at a time.
What step will you take today to practice being brave?

An Invitation:
On the evening of July 15th, at the Be Courageous Retreat from 5:30-8:30 pm, women will have the opportunity to Zip, Swing, and Leap out of their comfort zone.
Now that I've mastered my fear of the zip line and swing I look forward to doing them again for fun. I'm anticipating the opportunity to do a new challenge: The Leap of Faith – jumping from the top of a telephone pole to a trapeze bar while attached to a safety line. I'm not sure if I'm going to do it yet and trust that I will make that decision when I'm there. Whether I am cheering others on or receiving support as I take the leap, I will be fully present and engaged with the experience. Either way will be fine. One of the things I love about this community of women is the permission to be myself. I am good enough just as I am, and so are you.
If you would like to try one, two, or all three of these physical challenges with the support of an encouraging group of women who are practicing being brave, then register by July 10th to secure your spot. Then plan to join us for a picnic dinner afterwards to celebrate your accomplishment!
Details and registration here.
Click here to see two short videos of my free-fall swing and the team support afterwards.
Carol deLaski, PCC, is a speaker, author, and coach specializing in strengths-based leadership development. She is also co-founder of Wholistic Woman Retreats which offers fun, enriching, and supportive events for women-on-the-grow. Write to her at [email protected] or visit her website: www.caroldelaski.com for more information about her speaking and coaching services.