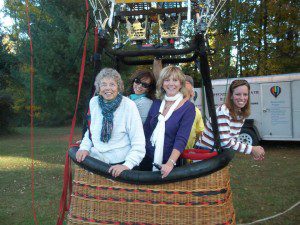 "I always wanted to go on a hot air balloon ride," my mother quietly said as we sat around the picnic table discussing our bucket lists last summer. We had just completed the Wholistic Woman Zip Line Retreat, and the rush of accomplishment left an afterglow with many of the women that prompted discussion about what they wanted to do next. Some had spoken of sky diving and scuba diving, but my mom was caught up in a dreamlike reverie about hot air balloons. I looked at my mother with new eyes as she shared this desire of her heart. She continues to amaze and inspire me as she embraces a life of travel and adventure into her eighties.
The conversation led me to wonder why we put off doing the things that inspire and excite us. What are we waiting for and what does it take to move us into action? In my mom's case it simply took putting the wish out there and then saying 'yes' to an invitation. My two sisters and I decided to gift a hot air balloon ride to her for her 82nd birthday this year. Mom's response, when we ran the idea by her, was an emphatic "Yes! Let's do it!" and we all shook our heads in admiration of her unbridled enthusiasm.
Despite her initial excitement, though, on the day of the ride, she seemed quiet and pensive as she sat in the van watching the beautifully colored balloon inflate. The pilot, Ron, drafted us three sisters to be part of the crew and we hurried to follow his instructions while Mom waited patiently to board the basket. I could see her hesitancy now that the moment was almost upon us. How many of us do the same, bravely setting out to do something new only to waver as the moment of commitment approaches?
To distract and encourage her I read her a post on Facebook from a woman in Germany who had met Mom at a previous Wholistic Woman Retreat in 2011. Upon learning of our impending hot air adventure, Karen wrote how inspired she had previously been by Mom doing a zip line over the lake during the 2011 retreat. Along with others, she sent Mom birthday wishes from "your biggest fan in Germany", encouraging her from across the world. We marveled at how small the world is now with instant communication and the sense of connection it brings. We also noted how uplifting it is to receive encouragement from others when we are feeling unsure of ourselves.
So what does it take to make our dreams come true? An initial component is gumption; that inner sense of courage that overcomes fear and nervousness. Whether we state our wishes quietly, as mom did, or broadcast them boldly for the whole world to hear, subtle movement begins when we give voice, or expression, to our desires.
Once we begin moving forward we can anticipate that there will be moments when we falter. A second component that is necessary for our success is encouragement and support. As a leadership coach, I have had the privilege of seeing many men and women grow into all they want to be. Whether it's checking something off their life list, learning a new skill, or launching a new business, people 'on-the-grow' energize one another to achieve their life dreams.
I am blessed to have a mother who models this for not only me and my family, but for the entire Wholistic Woman Community. She inspires all of us to live life fully, no matter what our ages, and to embrace an attitude of enthusiasm that overcomes nervousness. Surrounding ourselves with people who inspire, motivate, and encourage us when we waver is critical to our success.
Could you benefit from associating with such a group of people? We warmly invite you to join this community that supports ongoing growth and forward movement to achieve lives that are personally satisfying and fulfilling.
To read the rest of the story about the hot air balloon ride click here….
Save